Dr. Robin Fisher, DVM
Dr. Robin Fisher has been a veterinarian at Leduc Veterinary Hospital for over 20 years. She has had the privilege of following many puppies and kitties through to their senior years.
Dr. Robin grew up in Calgary, and graduated from the Western College of Veterinary Medicine in Saskatoon in 1988. She enjoys providing compassionate care to companion animals and has a special interest in allergies, heart disease, nutrition geriatric medicine, and preventive health care. Dr. Robin regularly attends education conferences to keep up to date on current practices in small animal medicine and surgery. Together with her husband, she has raised four boys. The family has a sturdy Cairn Terrier named Daisy, who makes sure everyone gets regular walks. Spare time is enjoyed with the family, cooking, gardening, traveling and spending as much time as possible at the lake.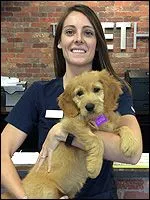 Dr. Jessica terBorgh, DVM
Dr. Jessica terBorgh joined The Pet Hospital team in 2017 after graduating from the Western College of Veterinary Medicine. Prior to becoming a veterinarian, she obtained her Animal Health Technician diploma and practiced as a registered veterinary technician as well as obtained her Bachelor of Science in Animal Health. Her experience as a technician has been an asset to her as a veterinarian. Dr. Jessica has a keen interest in feline internal medicine and was involved in the application process for The Pet Hospital to obtain their Cat Friendly Practice certification. Dr. Jessica and her husband live in the country and share their home with their dogs Watson and Hondt.